Your partner in attracting companies for the long term 
On behalf of clients or on its own account, BEOS Logistics develops logistics, distribution and commercial properties – the latter in cooperation with its sister company, BEOS AG – at attractive locations across Europe. We ensure that the cities and local authorities affected by our projects are fully involved in the development process. This page provides an overview of our project pipeline, including brownfield developments, revitalisation, densification of existing sites and project developments.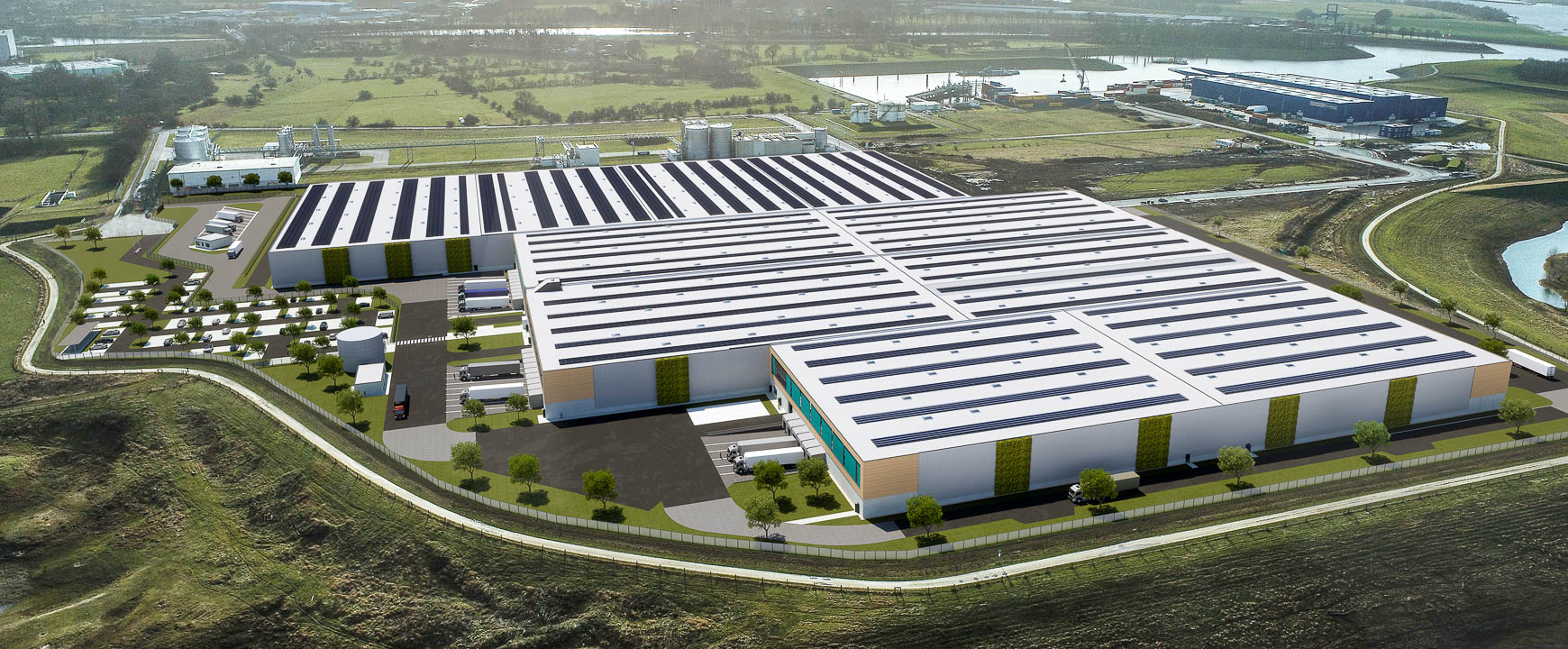 Sustainable facility for the international movement of goods
Wesel: 85,000-square-metre logistics property with port connections 
BEOS Logistics is building an 85,000-square-metre logistics facility for a global logistics service provider at the Rhine-Lippe port in Wesel, north of Duisburg, Germany. The property has outstanding connections thanks to its port location. BEOS Logistics acquired the 165,000-square-metre greenfield site from the DeltaPort Niederrheinhäfen port group. The majority of the leasable space in the planned development – some 81,400 square metres – will be logistics space.
The new complex will also accommodate 1,600 square metres of office and social space and 2,700 square metres of mezzanine space. The property will be suitable for leasing to a single tenant on a long-term basis, though the spaces are also designed to be divided into as many as ten units for different occupiers. The development will also include 37 parking spaces for heavy goods vehicles and 200 for cars. The construction works are scheduled for completion in summer 2023. Sustainability plays a major role in this project: as well as aiming for BREEAM Excellent certification, BEOS Logistics will also make substantial investments in other sustainability features throughout the facility.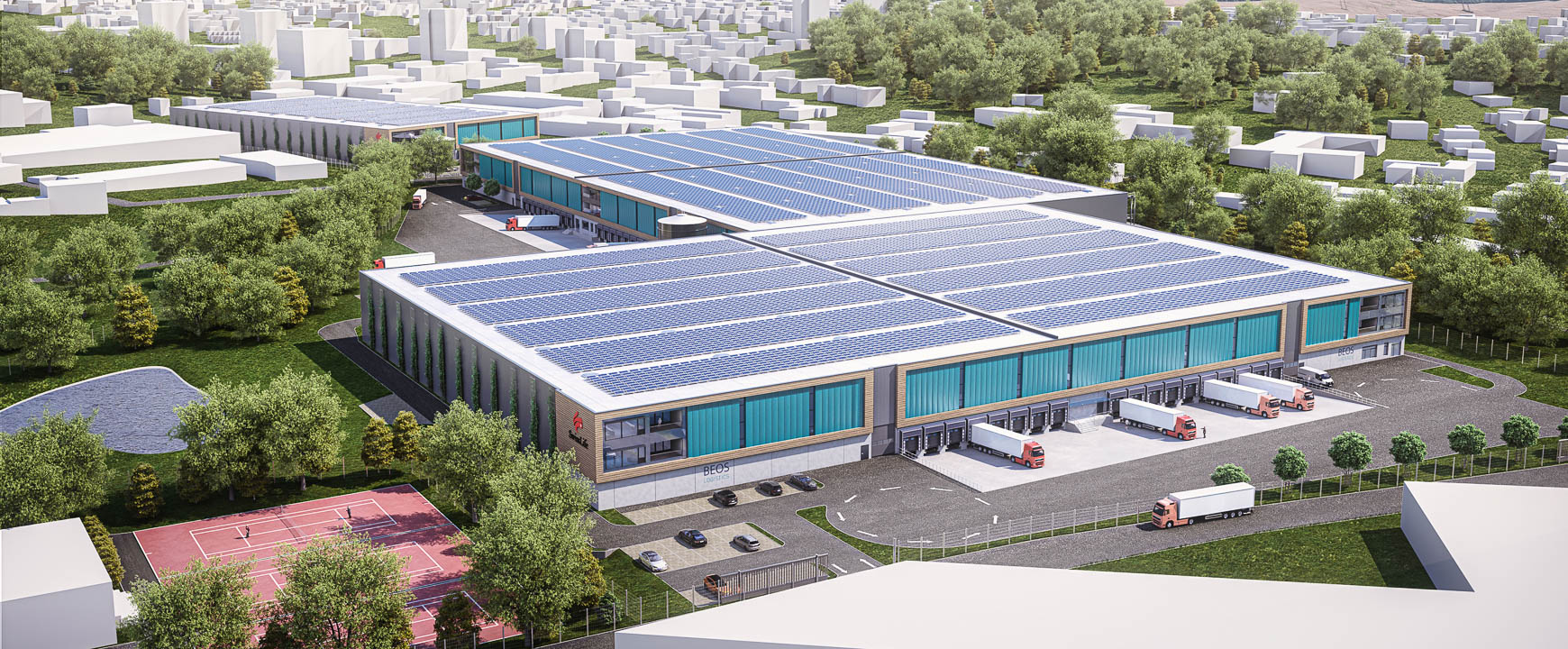 Revitalisation of brownfield site heralds a greener future
Wülfrath: Two logistics halls with a combined rental area of some 50,000 square metres
BEOS Logistics has commenced the evelopment on its own account of two logistics halls in the German town of Wülfrath, which lies to the east of Düsseldorf, Duisburg, Essen and Wuppertal. The halls will have a combined rental area of some 50,000 square metres on a 95,000-square-metre site. The brownfield site was originally used by Ford and Volkswagen and subsequently by Knorr-Bremse and Tedrive Steering Systems. Work on the development is expected to be completed by spring 2023. The modern logistics facilities will be designed with sustainability in mind, with the developers aiming for BREEAM Excellent certification.
Although demand among logistics service providers in the region is high, the supply of units in the 20,000- to 50,000-square-metre bracket is extremely low. BEOS Logistics therefore expects to see strong interest in the new development. The important role of logistics service providers in the region is reflected in the large number of companies operating in the courier express parcel (CEP), general cargo and contract logistics sectors.
Ideal location between two metropolitan areas
Polch: 100,000-square-metre site with existing facilities and excellent development potential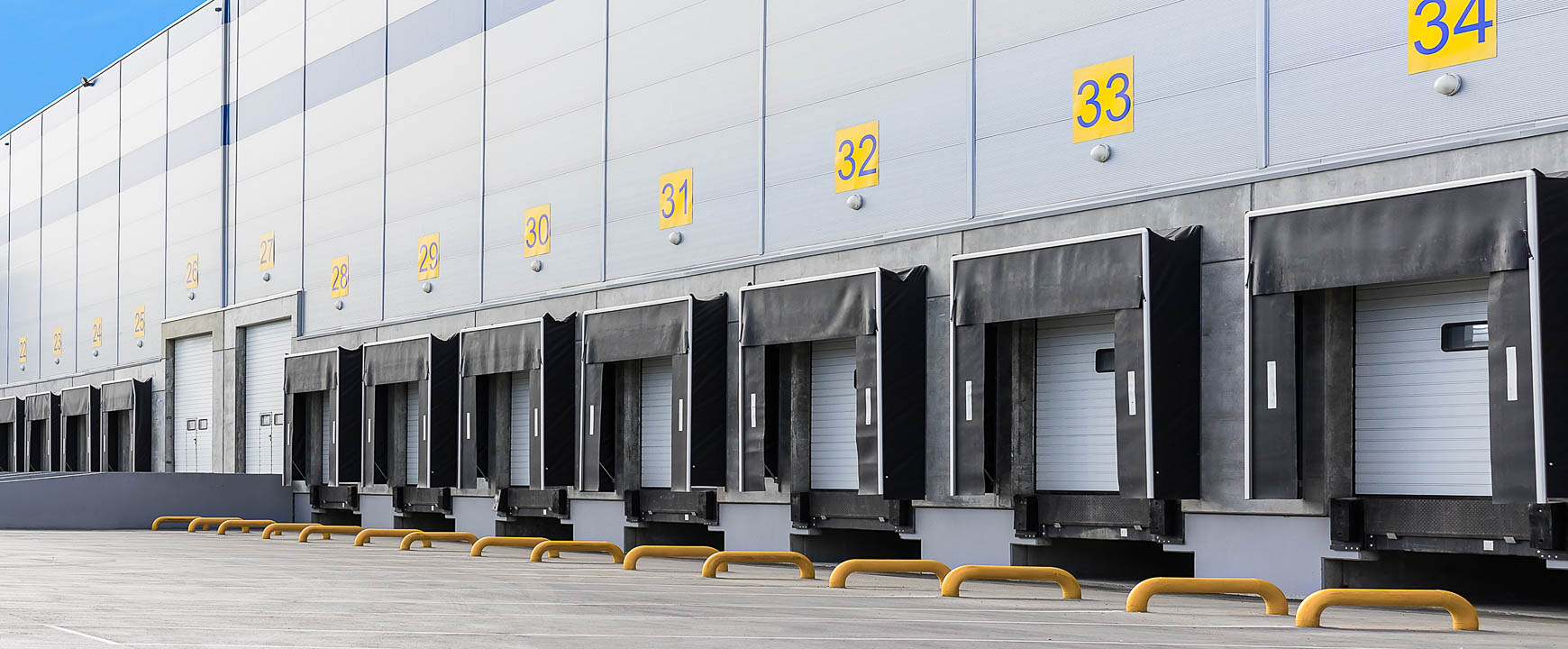 In Polch, west of Koblenz, BEOS Logistics is developing a logistics property with 20,000 square metres on its own account. The site's location between the two metropolitan areas Rhine-Ruhr and Rhine-Main makes the planned development extremely attractive, particularly to logistics firms serving the parcel and general cargo sectors as well as retail.
The A 48 ensures excellent connections to the motorway network. Thanks to the neighbouring Rhine ports of Koblenz, the region's logistics hotspot, and Andernach, the location also offers multimodal transport options between waterways, rail and road.
The planned spaces have been designed with flexible use and sustainability in mind. BEOS Logistics aims to achieve BREEAM Excellent certification for the new building.
The 100,000-square-metre site in Polch, which already contains an 18,500-square-metre warehouse and a 10,200-square-metre office building, was acquired by BEOS Logistics from LZP Logistikzentrum GmbH & Co. KG.
Pan-European projects in the pipeline 
BEOS Logistics has a substantial pipeline of projects and we are currently preparing to enter a number of foreign markets. In the medium term, our plans include the development of logistics properties not only in Germany, but also in other European countries.